March 2023
07
The United Arab Emirates, where bright lights and vibrant cities are the address of luxury and life with full potential, here is everything you need to know about the UAE green visa for the Emirates so that you have the opportunity to live and work in it without obstacles.
About UAE green visa
The UAE green visa is a new visa that allows citizens of certain countries to visit the UAE for up to six months without needing a sponsor or prior employment.
Citizens of Australia, Canada, China, India, Japan, New Zealand, South Korea, and the United States are eligible for the visa.
The visa allows for multiple entries for up to six months and is valid for one year from the date of issuance.
The visa is valid for various purposes, including tourism, education, and employment.
Requirements of the UAE green visa
1) A valid passport with at least 6 months validity is required.
2) a valid return ticket.
3) Must have a UAE residency visa.
4) Income verification is required.
5) Proof of relationship to the person residing in the UAE is required.
6) Proof of health insurance is required.
7) A deposit of at least EUR 5000 in the designated bank account.
8) A completed application form is required.
9) Two recent passport-size photographs are required.
10) Must be able to provide credentials and documents supporting the purpose of the visit if the immigration department requests them.
How can holding UAE green visa change my life?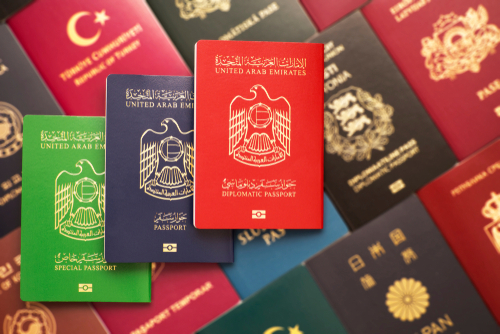 Holding a UAE Green Visa can provide you with numerous benefits, including visa-free entry into the UAE, access to a wide range of employment opportunities, the ability to open a business in the country, and greater financial freedom.
The UAE Green Visa also entitles you to an impressive array of government-backed facilities and services, which contribute to a higher standard of living.
Advantages of living and working in UAE
1. Tax Advantages: The UAE provides attractive tax advantages.
Personal income, capital gains, or inheritance tax do not exist.
This puts more money in the hands of working-class people and businesses.
2. Excellent Infrastructure: The UAE has first-rate infrastructure, including excellent roads, telecommunications, power, and utilities, as well as ports, airports, and medical facilities.
All of this makes investing and working in the UAE easier than ever before.
3. Political Stability: The UAE has enjoyed general peace and stability since its inception in 1971.
The country is now home to leading businesses, individuals, and professionals from all over the world seeking a safe, secure, and stable environment.
4. Dynamic Economy: The economy of the UAE is diversifying and modernizing.
Oil reserves are depleting, forcing the country to look for new revenue streams in industries such as tourism and service providers such as IT and logistics.
5. Tax Incentive Programs: Companies establishing themselves in certain UAE-free zones can receive up to 100% tax exemptions on import duties, property rents, corporate income tax, capital gains, and other levies.
6. Life Quality: Living in the UAE can be an extremely rewarding experience.
Apartments and villas are precious and well-equipped. There are numerous leisure and recreational facilities, as well as attractive parks and beachside areas, all of which contribute to a beautiful quality of life for families.
7. Experienced Workforce: The UAE has an experienced, hardworking, and extremely capable workforce, making it an attractive destination for foreign investors and businesses.
8- Good salary, may you ask, what will the salary be in the UAE? Salaries in the country are perfect for each position.
green visa uae cost
The cost of a UAE visa depends on the type of visa and the duration of stay. A visit visa typically costs between 500-2000 UAE Dirhams (AED) depending on the length of stay. A transit visa typically costs 160 AED and a multiple-entry visa costs 2,000 AED