March 2023
02
Having the flexibility to work remotely, makes you better manage your workloads, tasks, and commitments more easily, allowing you to have a better work-life balance. This results in a happier and more productive life, especially if you live in a great country like Emirates! Know more about the UAE remote working visa and how to obtain it.
About UAE remote working visa
The UAE's remote working visa is a new visa category designed to assist remote professionals and digital nomads in living and working in the UAE for up to a year.
The remote working visa has several requirements, but the applicant must show proof of income from outside the UAE, be knowledgeable in their field of remote work, and show proof of health insurance coverage during their stay in the UAE.
Applicants may be able to gain access to UAE business and investor visa services, such as real estate and other commercial opportunities, financial services, and general services.
Furthermore, holders of a valid UAE remote working visa are not required to pay income tax in the country.
How to obtain a UAE remote working visa?
There are different types of visas for visiting the UAE like job seeker visa and tourism visas…etc, each visa has its specific requirements to handle it, then what are the requirements of the UAE remote working visa, and how to apply for it?
To obtain a UAE remote working visa, you must first check the eligibility criteria specified by the UAE Immigration Department.
The working visa requirements vary depending on your nationality, length of stay, employment prospects in the UAE, and whether your chosen company is registered in the UAE or based in another country.
The UAE government has set up a dedicated portal to make the process of obtaining a visa for remote workers easier.
To verify your identity and determine your eligibility for a remote working visa in the UAE, you would need to provide your information, including your passport and other personal documents.
Once your eligibility is confirmed, you can apply for a visa by submitting all required documents, including a valid passport and a copy of your bank statement.
When your visa is processed and approved, you must print it, attach it to your passport, and present it to Immigration when you arrive in the UAE.
After receiving your visa, you will be able to travel to and from the UAE as well as pursue remote working opportunities with companies based in the UAE or other countries.
Your visa will state whether or not the country to which you are traveling welcomes remote workers.
You should also keep in mind that some UAE entities have additional requirements that you must follow in addition to those established by the UAE Government while working remotely in the UAE.
What are the benefits of a UAE remote working visa?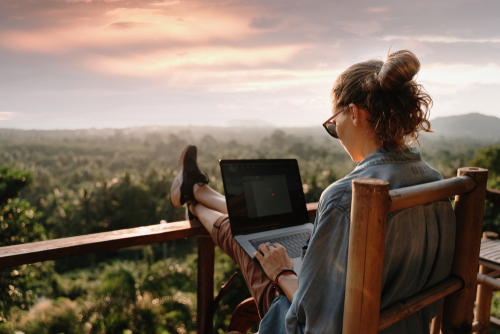 1. Greater Flexibility and Autonomy: With a remote working visa, you can access the UAE's sophisticated business infrastructure from anywhere in the world.
This allows remote workers to create their own schedules and manage their workflow more effectively.
2. Tax Benefits: As a remote worker in the UAE, you may be able to take advantage of the UAE's 0% income tax.
Many remote workers save money by avoiding the costs of business travel, work-related visas, lodging, and meals.
3. Access to a Thriving Economy: As a remote worker in the UAE, you can benefit from the country's economic growth as well as its strong financial services sector, which includes international banks and a thriving tech sector.
4. Cultural Enlightenment: Working remotely in the UAE exposes you to a diverse range of cultures.
This can allow you to immerse yourself in a foreign culture and gain new perspectives on modern business and global living.
Examples of jobs you can work remotely
1. Web and Software Development
2. Writing and Editing
3. Graphic Design
4. Virtual Assistant
5. Data Entry
6. Customer Service
7. Social Media Management
8. Online Tutoring
9. Project Management
10. Video Production/Editing
in conclusion, Working remotely in the UAE can offer lifestyle benefits and job opportunities for individuals not available in many other parts of the world. With the UAE embracing new technologies and platforms which enable remote working, now is the perfect time to explore the benefits of this unique location and the many opportunities available to individuals. Whether you are looking for a completely new career or simply want to experience the country from a different perspective, you will no doubt find something that fits your lifestyle. With the right preparation, you can make the most out of remote working in the UAE and contribute to the country's evolving digital economy.